Are you looking for pirate rings and skull jewelry or arrr ye looking for skull rings and pirate jewelry?
Every great pirate needs to make an impression of good taste and wealth!
Feast your eyes on our new line of precious metal pirate rings & skull jewelry featuring
Chris Black Designs of Australia.
These precious metal treasures are hand-carved by the master jewelry maker Chris Black of Australia.
Now, you can adorn your fingers with real sterling silver and 18k gold high-quality treasures! Pirate rings & skull jewelry from PirateRings.com
Available at
California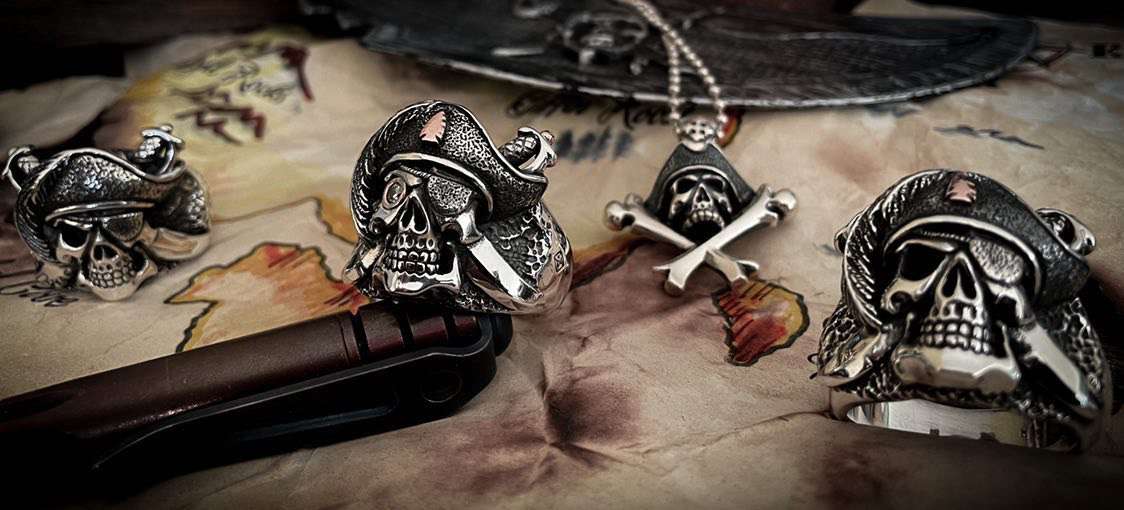 Order Your Gift Certificates Now- Please put in Pay Pal notes which gift you would like, T shirt or Coffee Mug? The T-shirt and coffee mug are available to purchase separately for 20.00 in shop. We only have the black handmade coffee mugs in stock now. Thank you.
When in the shop or online, you can buy our shop t-shirt and show the world where you got your new tattoo. Wear our Jolly Roger pirate logo. Get one of our Studio City Tattoo shop tee shirts while they last.
These are 100% cotton screen printed t-shirts from the crew at Studio City Tattoo. Our shop Jolly Roger is printed on the back of the shirt. We offer the sizes adult small, medium, large, xlarge and 2xl 3xl ,4xl, 5xl
Value of gift certificate - $100, $200, $ 300, $500
Call to order a gift certificate
818-769-4049